Transcripts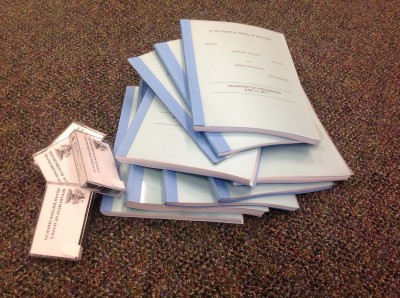 Court transcripts in Manitoba are produced by a contract transcription company, Royal Reporting, A Veritext Company.   Royal Reporting is located at:
Unit 120, 330 St. Mary's Ave.
Winnipeg, MB  R3C 3Z5
Phone:  (204) 306-9149
Fax:  (204) 306-9154
Email:  transcripts@royalreporting.com
Transcript fees are set under the Court Services Fees Regulation.  For transcript fees, click here.
Payment for a transcript must be made directly to Royal Reporting by money order, certified cheque, bank draft, or major credit card.  When attending the Royal Reporting Office in person, payment can be made in cash or by debit.  Royal Reporting will provide payment details at the time they process the transcript request. 
To request a paper or electronic transcript or to obtain a cost estimate for a transcript, you must complete a transcript request form and submit it to Royal Reporting by regular mail, email or fax.  You may also make a request by phone.  The transcript request form can be obtained from your nearest court office, the Royal Reporting website, or in person at Royal Reporting's office.
To download a transcript request form or for further information please visit Royal Reporting's website at:  http://royalreportingmanitoba.com
Transcript Information
Transcript Fees